Buy Genuine Chinese Tea Sets from China
What is Chinese Tea Sets?
There are various categories of Chinese tea sets. Being of elegant styles, practical use and artistic value, they are well-known around the world and favored by tea lovers throughout history. In the developmental history of tea drinking in China, both tea drinking customs and tea production methods have gone through many changes.
Porcelain tea sets in Chinese unique style base its contents on auspicious patterns, traditional tales and folklores, surname culture, poetry, novel stories, etc. With exquisite porcelain making technology in different stages in history, the Jingdezhen porcelain body will be made into blue-and-white, rice-pattern, family-rose, color-glazed porcelains. The fine tea sets embody the cultural richness and the broad history that spans more than 5000 millennia. They are high-class products in terms of quality, style, making technology as well as aesthetic value, which well demonstrate the perfect combination of practical use, cultural value and artistic value.
In ancient China, various kinds of famous porcelain tea sets can be found, including celadon tea sets, white porcelain tea sets, black porcelain tea sets and faience tea sets. These tea sets have been on the most glorious pages in the development history of tea culture in China.
Using Chinese tea sets can help adjust your body physically and mentally. When left alone drinking tea, no disturbance there, you can easily calm down and focus your mind on the tea. At that time, you will also find your emotion sublimate with the rising tea aroma. The fragrance of its aroma, the sweetness of its taste, the liquidness of tea, the imagination of its style, the changes of its color, the catchiness of its name, the legendary stories behind it , all of these will give you pleasant thoughts and enjoyment.
Since the 17th century, Chinese tea and Chinese tea sets have been sold to European markets in a large quantity. Together with the increasing needs for tea drinking, the demand for tea sets was increasing by a large margin. Due to the fact that the unparalleled advantages of porcelain tea sets were favored by Europeans, porcelain tea sets and purple-clay tea sets made in the three important historical periods ruled by Emperor Kang Xi, Yong Zheng, and Qian Long respectively have been sold overseas in a large sum. These tea sets have been serving as the bridge for economic and cultural exchanges between China and Europe.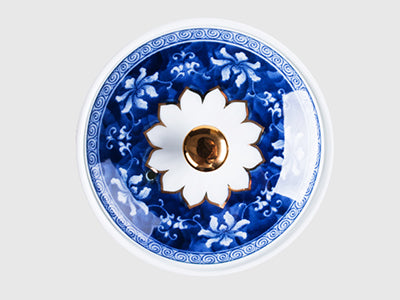 We offer a wide variety of Chinese tea sets in this section. A Chinese tea set is consisting of a tea pot and tea cups used to serve tea. Our China tea sets are known for its beauty and artistry. All the set is made from porcelain or ceramic. Tea consumption equals the consumption of alcohol, coffee, soft drinks, and chocolate put together making it the second most commonly consumed drink in the world after water. Bone China tea sets will bring you the experience of drinking tea in traditional Chinese way. Chinese tea sets which is great gifts for friends and families, also look great on your shelf or desk, simply search through the website to find the Chinese tea set you like.
Different Types Of Chinese Tea Sets
China, Chinaware or porcelain sets is named after China, it is a representation of the Chinese civilization. It is perfectly designed to go with the representation of the Chinese civilization it complements, tea. With the spread of tea across the world, porcelain tea sets became popular both at home and abroad.
Porcelain tea sets can be divided into white porcelain tea sets, celadon tea sets, black porcelain tea sets, and painted porcelain tea sets.
1. White Porcelain Tea Sets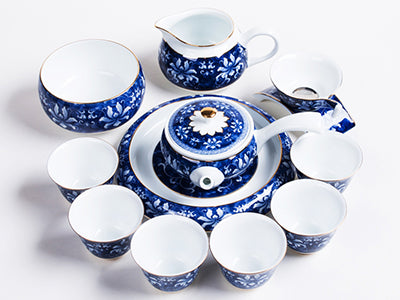 This type of tea sets usually has a compact porcelain body and good diaphaneity, a delicacy of structure. The white glaze of the tea sets reflects color of the tea liquor. It is moderately good at conducting and preserving heat, and is suitable for lowing different types of teas. Early in the Yuan Dynasty, the white porcelain tea sets made in Jingdezhen of Jiangxi Province was already being exported overseas. Today, they have become most widely used by tea enthusiasts.
2. Celadon Tea Sets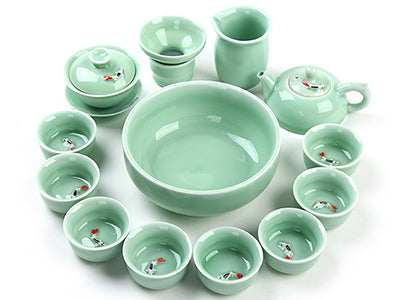 This type of tea sets has a fine,smooth porcelain body, and is both elegant and graceful in appearance. The clear, bright jade-colored glaze makes Celadon tea sets particularly suitable for appreciating the color of green tea liquor. Celadon tea sets with a pure color and good diaphaneity have been produced since early in the Eastern Han Dynasty. In the Song Dynasty, the Longquan celadon tea sets made in Zhejiang Province had its heyday, and was popular at home and abroad. In the Ming Dynasty, the crafts and techniques adopted in making celadon tea sets became even more delicate.
3. Black Porcelain Tea Sets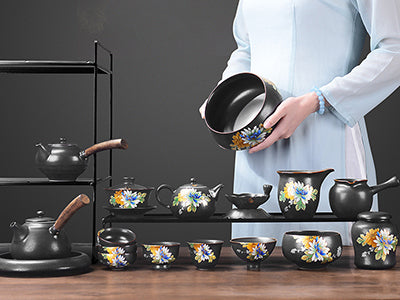 When the tea decocting method was gradually modified into the tea spotting method in the Song Dynasty, black porcelain became popular since whenever people had a tea fight or tea spotting game, they would use a black container to offset the white bubbles so as to judge their evenness and purity of color. So this was when large scale production of black porcelain tea sets began.
Black porcelain tea cups made in the Jian kiln were famous for the unique recipe, when pouring tea liquor into the teacup, it reflect colorful light spots, adding more fun to the tea spotting game.
4. Painted Porcelain Tea Sets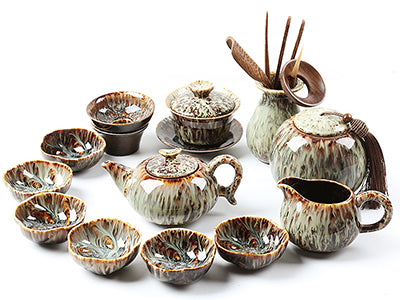 This type of tea sets, decorated with paintings on the body, is colorful in appearance and diverse in style. The blue and white painted porcelain tea sets is well known at home and abroad, it uses cobalt oxide as the color generator to paint different patterns on the porcelain body, and after that a layer of transparent glaze covers the entire body. The tea sets is then fired in a kiln at a temperature of 1300℃ ware.
Tasting Chinese Tea in the quiet moment
Chinese Tea needs to be drunk quietly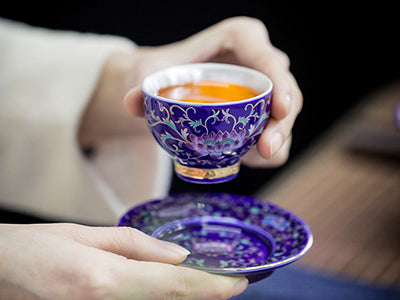 Tasting tea is the return of heart, the rest of heart, and the enjoyment of heart. To taste tea, you need to be in the best state of mind, and only by this you can really experience the true meaning of tea and obtain the spiritual enjoyment.
Mattering nothing
In the Tang dynasty, Feng Kebin put "nothing" in the first place in the Tea Depicting. Nothing refers to the drinker feels carefree and leisurely with no desires in mind.
Keeping silence
Silence refers to not only the quiet and elegant environment where people drink tea, but also person's peaceful heart. Calmness is essential to the practice of Chinese sado. Only by keeping mind quiet and clear one can be said to have the heart for heaven and earth, and realize from the process of tea tasting, while washing cleanses of the personality. Then you can surpass yourself and moisten the spirit.
Zhnangzi said: "still water is the man candle, flat in accurate, and this how the great artisan learns. Water is bright and still, what spirit is about. The heart of saints is static and of heaven and earth, and the mirror of everything ." "Static and devoid law of observation" means clear to see the personality, insight into the nature, just view oneself and experience the great morale status.
The Taoist's view of "static and devoid law of observation" has developed into "tea needs to be drunk quietly". An emperor of Song dynasty named Zhaojie wrote in Treatise on Tea: "Tea is to lighten leisure with charm and static."
Falling In deep meditation
Only the person drinking tea with heart can develop a taste of tea essence and interest. And a good state of mind is the condition and premise of "drinking with heart". A leisurely and quiet state of mind weighs and this is the highest state of mind.
Meeting Friends
Confucius said, "It is always a pleasure to greet a friend from afar." Friends and distinguished guests liven up the state of mind so that you can obtain the interest of tea drinking, absorb the wisdom of tea drinking, and then feel a perfect state of mind.
Talking heart to heart
The state of mind during drinking is natural and truehearted, and you can taste leisure, unrestraint, and freedom of life in the static or drink quietly in the dynamic.
Chinese Teas with snacks
Tea is served with refreshments or snacks like alcohol with dishes. Tea snacks taste delicious, look elegant and refined, and appear lovely. Common tea snacks are bean pie, coconut cake, bean cake and so on. There are also a variety of preserves, tea candies such as black tea candies, green tea candies.
Tea snacks, according to historical records, are prevalent in Tang Dynasty. Rice dumplings, ravioli, dumplings, pies, and fruits are enjoyed with tea.
Choosing refreshments is not easy. The "harmony" principle should be followed. Different kinds of tea in different flavor match food in different taste; different kinds of tea in different shapes and colors require snacks in different shapes. In other words, refreshments should not destroy the tea flavor, and must be both tasty and good-looking.
"Tasty" demands that the taste of tea snacks and tea match each other. Experts come up with formulas that "sweet with green, sour with red, and seeds with Oolong." That means sweet things match green tea, for example, all kinds of sweet cakes, pineapple cakes, should be taken with green tea, etc.; sour food matches black tea, such as wild jujube, preserves and others with black tea; and salty food with Oolong tea, such as melon seeds, peanuts, and olives, etc.
"Good-looking" demands the visual effects of tea snacks matching tea. For example, Longjing tea liquid is clear and light, most suitable with crystal dumplings; Pu'er tea seems steady and strong, fit for a variety of dried-meat or beef jerky, dried fruit, etc. During family union and friends' talk, it is interesting and enjoyable to have some tea and refreshments.
When Guang Zhou locals drink tea, they always take a Chinese Tea Set, and have some muffin, taro cake, and turnip cake at the same time.