What is Travel Tea Sets?
With the development of society, regard to the meaning of life, more and more people prefer to relax their mind not just pursue for the food. Go hiking, volunteer service, and the adventure in remote area and some other activities are becoming the desired life of modern people. When go hiking, something must be prepared, such as backpack, first aid box, hats, tableware and etc. Of course, if you could make a cup of tea for yourself when having a rest, the hours will become great, isn't it. But at this time, taking the ceramic tea sets is so big that is not very convenient, and also it will take up many spaces of packages. In addition, it inevitably will add burden to your shoulder.
So, the travel tea sets are no doubt the best choices for you. As we can see that the travel tea sets is very portable, easy to carry. And the most important is that has no any difference with the common ones. It is also include tea pots, cups, tea tray and something else, which just smaller than the common one and plus a travel bag. When go outing, we could put the tea pot and cups into tea plate. And then a bag pack is enough. In general, the travel tea sets is made of ceramics, as its conform to environmental-protect conception. Besides, it is also very suitable for small space with little furniture. It could be easily placed in that place not to take up many spaces.
Travel tea set is also call tourist tea set, portable tea set, etc. No matter what kind of name is, it is suitable for taking out. It has the characteristics of small size, flexibility and portability. Whether it is a long journey, or a river climbing, we all focus on the light equipment.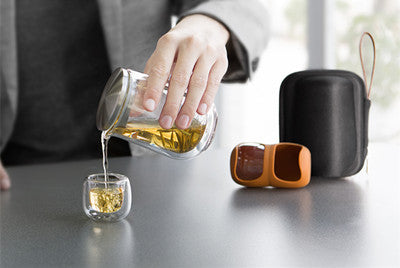 Although the travel tea set is small, complete with all functions. It's refreshing and wonderful to have a cup of tea when you stop. These simple and portable tea sets are just take up the space of a mobile phone and a set of cosmetics. Why not have such a set of tea set around you.
Portable travel tea set is not only the art of drinking tea, but also the art of storage. It is simple but not casual. It concentrates the flavor of different places in this cup, so that you can keep joyful mood on the road.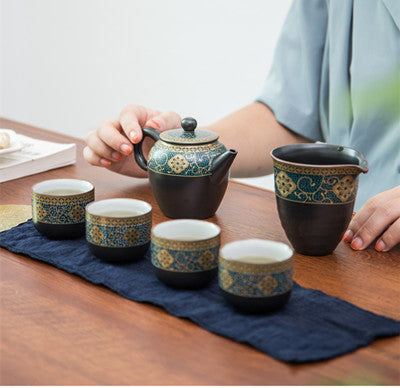 With a so small tea sets that bring the greatest partner for your trip, especially in the good time, going out to enjoy the natural scenery, but also share the aroma of tea and the fun of enjoying tea. In addition, the travel tea sets are sold with an affordable price. Matching it with tea tray, it is also very convenient to carry when go out. And also could make tea in car. For the people who love enjoying tea when traveling, the tea sets have become an necessary personal effects. Going to somewhere, drinking some tea. Hi, guys, from now on, giving up the heavy household utensils, carry on the light and convenient travel tea sets, even go outside, and still have the chance to enjoying tea. It is also a different fun isn't it?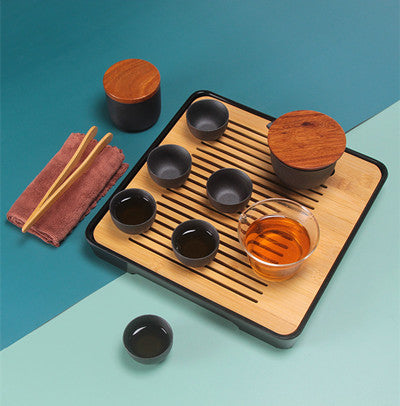 How to Select a Travel Tea Set?
1. The Portability of Travel Bag
For travel tea set, we are more use in travel or business trip, which requires us to consider whether the packaging is portable. And for the packaging, we also need to consider its security, because we don't know what kind of situation we will encounter during the journey, so we need to consider the package of the portable bag when choosing the travel tea set. In this way, it is more convenient for us to enjoy tea on the trip. Our travel tea sets have matching this kind of portable bags, so you can buy them with confidence.
2. The Tea Strainer Should be Easy to Clean
We also need to pay attention to whether there is a tea strainer in it when choosing travel tea set, because the tea strainer is very important in the process of making tea. It can effectively filter out the tea in the tea soup and to make us enjoy the delicious tea soup. And we should see whether the tea strainer is easy to clean. Because it is hard for us to spend too much time on cleaning during the journey, we should consider the problem of convenient cleaning when selecting.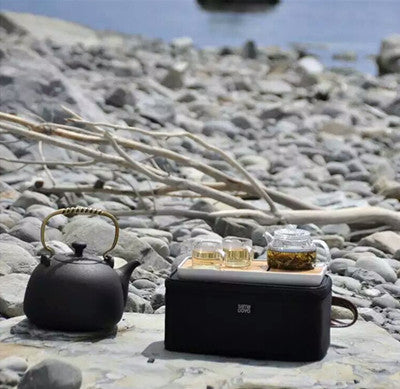 The Advantages of Travel Tea Sets
1. Easy to Carry
When you on the trip, if you bring a traditional tea set to brew tea, it is not only easy to be damaged on the way, but it is also very inconvenient. For a travel tea set, it is exquisite and compact. It is very convenient to hang it on the backpack or put it in the box. When you travel, you can take the tea set with you and enjoy the private nature. It's really carefree to have a cup of hot tea and talk with friends.
2. Safe Package
The high quality outer packing and the inner layer of cotton clip can effectively isolate the collision between tea sets. It is safe and portable, and it is also very exquisite . There is no need to worry about the tea set being broken.
3. Easy to Clean
Travel tea set is small and light, because this simple design, which can make you cleaning more easy and convenient. You can clean the travel tea set as the same as the traditional tea set. After drinking tea. In order to avoid the generation of tea stain and bacteria, the tea set must be washed with clean water. After the journey, we can use baking soda or edible salt to disinfect and clean the tea set thoroughly, to ensure the tea set is clean, which can extend the service life of travel tea set.