Tea For One Sets, Tea Sets For One
In modern life, simple and creative is what we need, not only a tea set, but also an attitude towards to our life. It is a work of art. Exquisite creation of color creativity, combination design of teapot and cup with saucer.
Some of our tea for one sets are made of Bone China, which has strong light transmittance, showing different texture and luster from ordinary porcelain, giving off a kind of noble temperament.
Combined with the beautiful curve, elegant and easy to use, enjoy the quiet afternoon tea time one cup of tea.
Small and fresh style, Only one teapot with cup, easy to pack up, office and home use are very convenient, it would be a great choice as gift.
Some of our tea for one sets has its own filtering function, it has small holes in the spout to prevent the tea leaves comes out, which helps you filter out the excess tea residue and is convenient for drinking.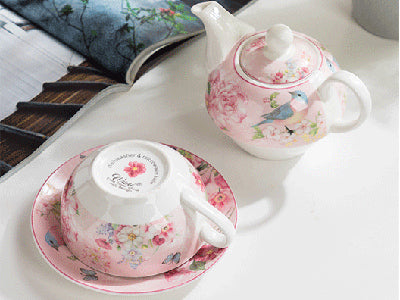 Suitable for making flower tea and tea bags.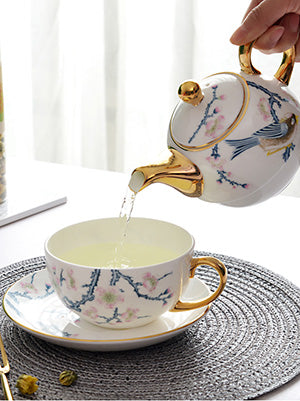 We appreciate our life in trivial things, such as a cup of tea, a smile, and an unique taste of ourselves. As a result of it, quality of life has been enhanced, more smiles added to your life, and more aftertastes existed. Particular European & American way of life is for people, like you, who enjoys life and improves personal taste.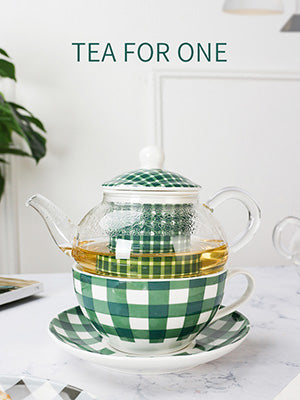 In the idle time, you can hold a novel, taste a cup of high tea under the sun. There is nothing more can be compared to this way of life. You can choose a tea for one set that you love at first sight. Then, the fragrant herb tea will, in a short moment, endows you a romantic afternoon.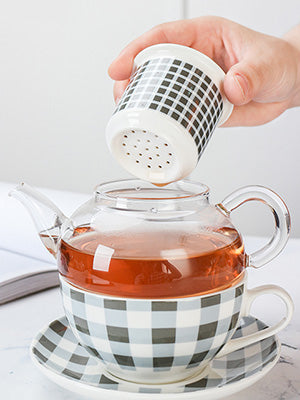 Sometimes, you are all alone, and a fresh breeze puffed across quietly, sun being warm. Having cleaned your house and sat in front of the window, you are drinking high tea with aroma floating around in the air. Then, you decide to open the book and read it at ease. You accidently read about some words that make your feel youthful again. In those early years of your life, days are brighter than any periods of life and perseverance are forever-lasting. Before closing the book, you are moved to tears all over the face. Tender heart is sensitive and easy to fall to the trap of sentimental plots. You remember things that happened sometime in the past, memory piles up and emotions bursts out. You will hear the voices of your heart and the music of passing wind. Warm sun in this afternoon finally calms you down and drives away your anxiety. The sky outside is blue and has no boundary; while here, I possess the most cherished peaceful time. The way of life in the most wonderful Jiangnan region gives me the precious moment to speak to myself.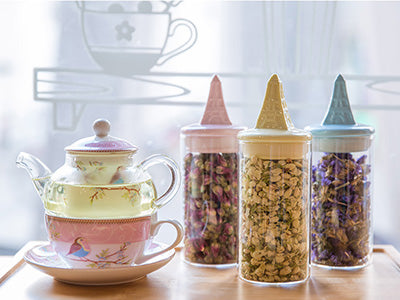 A tea-lover's delight, the tea for one sets is self-explanatory, it is a cup and teapot in one, and will brew an individual cup of tea. Take a look at our tea sets for one. Coming in several colors and very attractive patterns similar to our standard teapots. Once your leaves are steeped perfectly, just pour it right into it and enjoy! Great for preparing both bagged and loose tea leaf.