When you brewing tea, the shining on tea set, vapor in the cup, freshness of the tea, and leaves unfolding will all give you a pleasant feeling and fun.
Based on the materials, the commonly used glass tea sets in our life has three kinds: sodium calcium glass tea sets, crystal glass tea sets and high borosilicate glass tea sets. Each kind with different materials has its own features.
Sodium Calcium Glass Tea Sets
It is the most common glass for us. The price of this kind of glass tea sets is relatively cheap. But the transparent of sodium calcium glass is lower than crystal glass. The sodium calcium glass has strong plasticity, that is why we can see the sodium calcium glass tea sets has so many different and special shapes.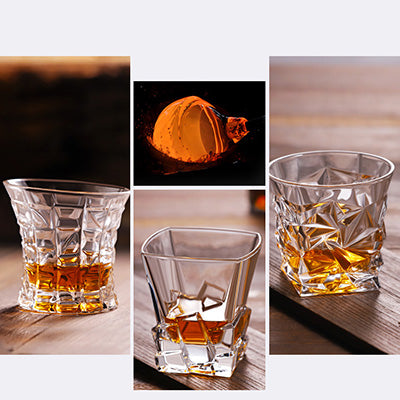 Crystal Glass Tea Sets
The tea set made of crystal glass has much higher transparency. When you making tea with crystal glass tea set, you can directly see the original color of the tea soup and the color changes in different stages. It is easiest to judge tea's quality by its color. Moreover, the crystal glass tea sets are light with a great hand feel. The wall of the products is thinner than that of ordinary sodium calcium glass.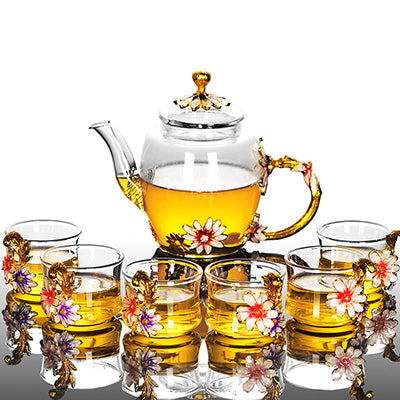 High Borosilicate Glass Tea Sets
The biggest feature of high borosilicate glass is high temperature resistance, so it is heat-resisting. Calcium glass tea sets and crystal glass tea sets can not be heating directly with fire / induction cooker in daily use, while the high borosilicate glass tea sets can meet the needs of tea brewing and tea cooking. It can withstand the sudden change of temperature from - 20 ℃ to 150 ℃ without causing any crack on it.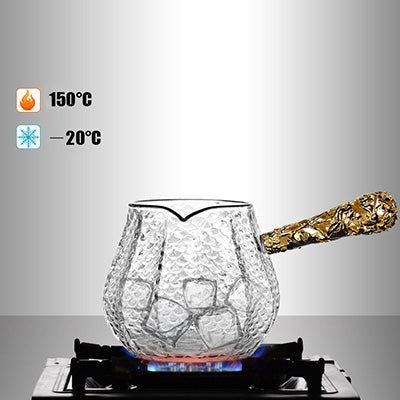 The Advantages of Glass Tea Sets:
1. The glass has high transparent and plasticity, so the tea set made of glass has different shapes, special styles and brilliant luster.
2. Use glass tea set to brew tea, the tea soup looks very clear with attracting color, tender and slender in texture and will float around during brewing. When the tea leaf stretches itself, you can see the whole picture, which is a kind of dynamic artistic appreciation.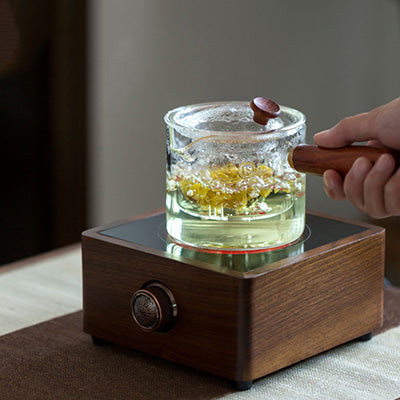 3. As glass are smooth and it does not have pores, so it will not absorb the flavor of material, in this way, you can taste the 100% original tea flavor. But if you brew tea by clay, stainless steel or cast iron tea set, it may absorb the flavor of material in the tea soup, and the tea soup may has a bit flavor of clay, stainless steel or iron.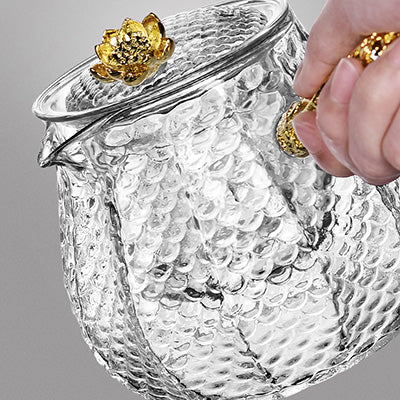 4. Glass tea sets are easy to clean.
5. Glass tea sets is economical, thus welcomed by most customers.
Disadvantages of Glass Tea Sets
1. The glass tea set is fragile, so it may be crushed by carelessness in tea making or washing.
2. The single-wall glass tea set is more hot than double-wall glass tea set with hot tea inside. So it is not suitable for holding directly when the hot tea inside.
3. Most of the glass tea sets has low artistic value and no great collection value.
What Should Be Noted When Use Glass Tea Set?
1. Handle with care, avoid collision.
2. Do not put glass with metal items together into microwave oven for heating.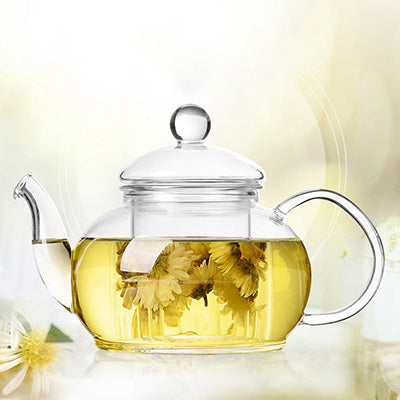 How to Clean Glass Tea Sets?
1. Use orange juice or orange peel to clean the glass tea set, you can clean the glass tea set very clearly in a minute.
2. Pearl powder not only has a great beauty effect, but also has a strong cleaning effect. Just take some pearl powder and evenly plastered it to the appearance of whole glass tea set, wait for about 30 minutes, and then wash it with water, it will be clean up easily.
3. Apply some toothpaste on the appearance of whole glass tea set and wait for about 30 minutes, then wash it with a water, it will be clean up easily.
We offer a range of glass tea sets that look simply amazing when served at any social occasion or dinner party. We've thought of glass tea sets for sensational sipping, sunrise to sunset. The combination of hand-made glass teapot and tea cups creates an entertaining spectacle that never fails to get a reaction, and the double-walled glass design keeps the outside cool or warm while insulating the hot or cold tea. The two layers of borosilicate glass create the illusion that the tea is ethereally suspended within your glass. Stunningly beautiful, these glass tea sets feature large, heat resistant teapot, and are accompanied by tea cups. It is a beautiful way to enjoy tea! Our glass tea sets make great gifts and are designed to appeal to a variety of tastes and budgets. With their transparency, will match absolutely any decor!