Chinese Wedding Tea Sets for Wedding Ceremony
What is Chinese Wedding Tea Sets?
China is a country of etiquette, and there is a custom of giving gifts in social relations. For example, on holidays, when friends and relatives get married, they usually bless them with well-prepared gifts. Giving tea set is also the most elegant way. Therefore, Chinese wedding tea sets are gradually becoming popular as wedding gifts. With the in-depth influence of Chinese tea culture, Chinese wedding tea sets have become a good choice of more and more people.
In China, there are more and more people choose to hold an tea ceremony to show the bride and groom's family respect. In China-style wedding, it is always an unique part to serve tea, at which the bride and groom will do oriental prostrations and serve the tea to their parents. They were not to stand up until the elders have drunk it to show respect.
Nowadays, the tea ceremony in the wedding ceremony more consecrate on the harmonious life and respect people, compared with the complicated etiquette in ancient times. Now the tea ceremony is much simpler. However, some core etiquette and procedures still need to be followed.
And now, the Chinese wedding tea set is coming on the way, which is inevitably adding a good choice for wedding gifts. As we all know that the wedding tea set must be an suit, including a pot, a few of cups or just several cups. Of course, there are also some people choose to match with a special tea tray according to their local tradition. In china, there is an old saying that good things should be in pairs. In other words all the great condition, the gift that we send should be in pairs, or the people will be displeased. So the Chinese wedding tea set are all be matched with the cups in even numbers.
In Color, with red as the best choice, meaning "happiness, healthiness, tastiness." And plus a well-designed bag, it is not only easy to carry but extremely decent, isn't it. Usually, for the material, the ceramic one is in the majority. For the design, often present some drawings which symbolize happiness, many sons and wealth. So you could choose some represent wealth and prosperity, such as peony drawing. And there are also others symbolizing to reach old age together, such as Mandarin Duck drawing. And some represent happiness in life, such as horse drawing.
As a gift for wedding, the Chinese wedding tea sets is both taste and connotation. Hi guys, in China, there are more and more people chose it. And if the newlywed enjoying tea, it must be the best one. And the tips is that please pay more attention to the texture and feeling. The Chinese Wedding Tea Sets is no doubt the important way to say best wishes to the newlywed. And if we match it with tea tray in heart, it must be the best gifts.
Today, many couples choose to honor both the bride and groom's families by hosting tea ceremonies for both sets of parents. The Chinese wedding tea ceremony is the time when the Chinese wedding contract should be witnessed and signed with a traditional signature seal or personalized stamp. Here our Chinese wedding tea sets are best tea sets for wedding, also each Chinese wedding tea set is a best gift for wedding.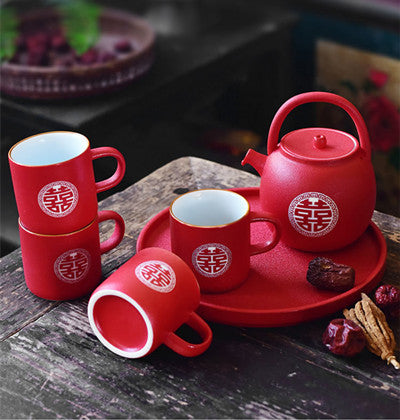 How to Select Chinese Weeding Tea Set?
There are various types and patterns of tea sets on the market today, young people tend to have fashionable, distinctive and complicated patterns Chinese wedding tea set.
We suggest you avoid to buy the design of longevity character, green pine and cypress. And it is better to select the elegant or festive monochrome.
Usually, we recommend you buy red wedding tea sets for the new couple, because red represents happiness and good luck in China.