Vintage Tea Sets, English Bone China Tea Sets
What is Vintage Tea Sets?
The vintage tea sets, is a kind of cup especially used for drinking milk, coffee or tea, briefly called coffee tea sets.
The coffee always present amber and brown color. So as to show up this characteristic, the best way is to use coffee cups are white inside.
At current fashion, people prefer bone china tea sets. Because bone china coffee sets can keep warmer of coffee / milk / tea in the cup for longer time, and you can watch the color of coffee liquid / tea soup much clearly. Bone china has a good heat preservation effect, which can keep warmer of coffee in the cup and ensure that every sip is hot and fragrant.
How to Select Bone China Vintage Tea Sets?
1.When choosing vintage tea sets, the first thing you could do is to observe whether its style of accessories is coordinated with your home or table design. Cups should not be too big. It should be match the teapot size.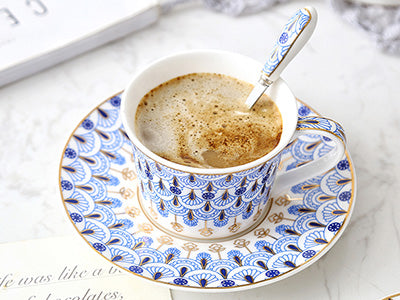 2.Cover the cup on the light bulb (of course, it's good to put the cup inner face the light) to judge it. The top grade bone china has great transmittance, the surface luster is good, the color and luster is soft.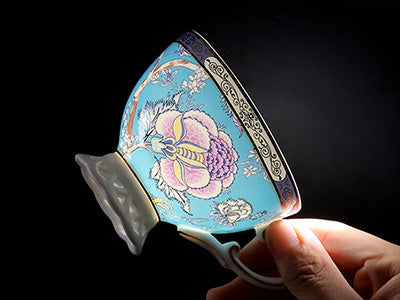 3.The whole body is milky white, the glaze is smooth, and the porcelain is light and thin, these features could identify the bone china is high quality.
4.Gently tap the surface of the bone china tea set, the high quality bone china has clear and crystal sound. Those with dull or hoarse sound are mostly inferior.
5.When you choosing bone china tea set for drinking, never choose those decorated with color painted on the inner surface of tea sets. It is better to choose underglaze.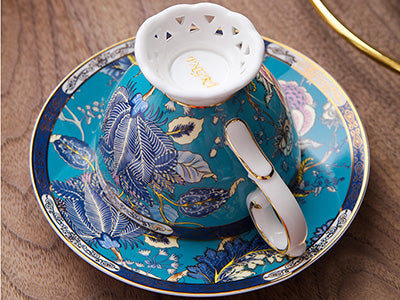 How to Clean and Take Care of Bone China Tea Sets
1. Be sure to wash by hand. Dishwasher is not available. If you really don't want to wash it by hand, you should choose a dishwasher with "China and crystal" washing function.
2. Those bone china tea sets with golden rims should not put into the microwave oven to avoid corrosion. 3. The pH value of washing must be between 11-11.5.
4. When washing with clear water, the water temperature shall not exceed 80 ℃.
5. Do not immerse the hot cup into cold water directly, as it will hurt the bone china due to the rapid change of temperature. The same, Do not immerse the cold cup into hot water directly to avoid crack.
6. If there is any scratch on the bone china body, it can be slightly polished with toothpaste.
7. If the bone china has tea stains on it, you can wash them with lemon juice or vinegar.
8. Do not put it on fire to heating it directly.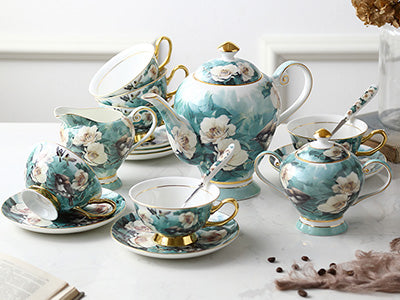 We improve product details based on the idea of improving taste and enjoying life. Transfer the attitude of loving life to the details of life, bring the original and boring vintage tea sets with life and fun. We ensure that we have use the best quality materials in the each step of production process, our aim is to give customers a perfect use experience. Our vintage bone china tea sets can be used in a variety of places, it will brings you a better life enjoyment.
The collection of vintage tea sets here offers plenty of choice whatever you require. Pretty Vintage English tea sets in complementary colors and patterns for a vintage afternoon tea. There are many kinds of bone china tea sets for your cabinet display. Beautiful fine vintage tea sets for sale. Everything you need to create your perfect tea set and tea party.